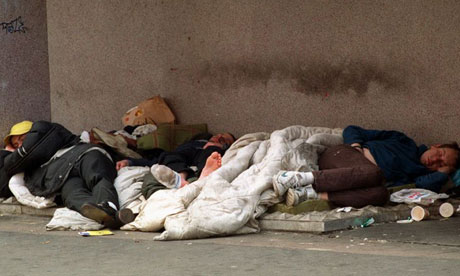 I overheard a friend explaining to someone about the large homeless problem in my city. And it is a huge problem, but just using statistics really doesn't do it justice. We have enough shelter space for about 10% of the homeless. But, it all depends how you define homelessness! There are a lot of ways to look at it, and while if you ask me, we have far too many homeless, the situation isn't always what it's made out to be.
What does it take to be homeless? Well, it can just mean having no fixed address. If you follow this logic, I have been homeless for at least three weeks, maybe longer while crashing in my parents basement in between places. I however, wasn't in need of emergency shelter, and was in the same boat as many of the homeless in my city.
The truth is,
most
but not all,
of the homeless are able to find a place to stay with friends or relatives until they're able to get back on their feet. Let's face it, most of us don't want to see the people we care about sleeping on the street. Some people may wind up sleeping in their cars for a while in the warmer months as well, but on the whole, they find somewhere.
How does a person wind up on the street? A variety of reasons, but it often starts with addiction or mental health or both (or even just being a really annoying person). Kicked out of your parent's house for being depressed and not able to find a job you live on a friend's couch and drink all day while paying no rent. Said friend gets sick of you, and with urging from their girlfriend, kicks you out. You try staying with a couple more friends, but you're getting a bad rap. Finally you sleep in the park a couple nights before it rains, and you get sucked into "the shelter system".
At "the shelter", you get a bed each night (as long as you haven't been drinking of course) and a place to shower. Unfortunately you don't get much more than that as you get kicked up every day at 7AM and aren't allowed back in until 9PM. During the day you wander around. Maybe you panhandle a bit, but what do you buy? You have no place to put anything, no where to store anything. Alcohol is easy, you don't have to store it, you just drink it. Oh, and maybe some McDonalds, because you really will spend some money on food...
You come back to the shelter drunk, they won't let you in. After a few nights on the street you discover a shelter where you can sleep even when you're drunk. A mat on the floor is better then outside? Turns out the place smells, all these old guys everywhere, urine on the floor, plexiglass "protecting" the staff. You go back outside, anything's got to be better then this! And so you panhandle, drink, sleep in the park, and don't bathe. You're tired, you're still depressed, and you have no friends. Where to turn?
You start making friends with some of the people you see drinking in the park. There's a cheaper way to get high they tell you, and you discover sniff. It makes you feel dirty, but hey, you're all doing it together, it's like having a family again (at this point with your dirty skin and long unbrushed hair you figure your family wouldn't even recognize you). Your friends help you find some support so that you can start collecting social assistance, more money for drinking! You return to that shelter with the mats. It's not so bad when you're surronded by your friends... right? And doing anything different would just be so much effort...